On November 13, 2020
Australia has over 3.5million small businesses. Small businesses contribute to a third of our economic activity, keep millions of Australians in jobs and are responsible for paying wages to almost half our workforce. They are vital to our everyday lives – especially now we are trying to find the way to economic recovery.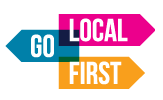 Go Local First is a nationwide campaign being delivered by the Council of Small Business Organisations Australia (COSBOA). Go Local First aims to encourage Australians to choose local small businesses when they are purchasing products and services to help get the sector back on its feet, keep Australians in jobs, and money in local communities.
Aussie small businesses have taken a huge hit during the pandemic. Go Local First is about encouraging all Australians to back local businesses by choosing to spend with small businesses, both in store and online. When small business thrives, communities thrive, and Australia thrives.
The Go Local First campaign uses social media and online presence to advertise and drive business to local premises. This Government supported branding concept, complete with a downloadable toolkit has been created for small business to benefit from existing branding and advertising such as posters, website links, Facebook, and local directories. You can like, share, or personalise the content to suit your business. Get in on the trend of @golocalfirst (Instagram) and @localfirstAU (Facebook).
Embrace Go Local First, encouraging business owners to use the content that has been created specifically for small business. The toolkit provides resources to help you and your organisation promote the Go Local First campaign and maybe even encourage your customers or others in your community to do the same. Included in the pack are tactics and tools to help you do this.
Future toolkits, digital tiles and pre-drafted content will be available via a closed Businesses & Supporters Facebook Group. To join this group and access campaign digital content and supporter material, please visit: Businesses & Supporters Facebook Group